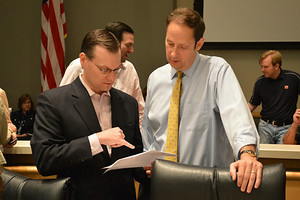 House Appropriations Chairman Seth McKeel makes a point while going over budget documents Sunday afternoon with Sen. Joe Negron chairman of the Senate budget committee. Photo by Bill Cotterell
After a Saturday hiatus, the Florida Legislature resumed public budget negotiations on Sunday and outlined some areas where they have agreed.
The House matched the the Senate on spending for Everglades and Lake Okeechobee projects of $157.8 million. But the House also includes another $10 million for muck removal from the Eau Gallie River, which isn't in the Senate budget or previous offers.
This brief has been archived. The entire brief is available exclusively to LobbyTools subscribers.
Already a subscriber? Login, or call 850-915-0100 ext. 1 for customer support.