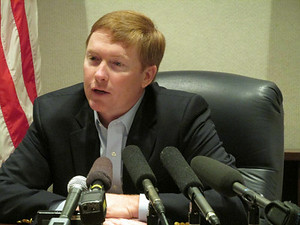 During the past three months, Agriculture Commissioner Adam Putnam has bought in $591,000 toward his 2014 re-election race, according to reports Wednesday. File photo by Bruce Ritchie.
Candidates in the 2014 midterm elections filed campaign finance reports for the second quarter on Wednesday, with most incumbents racking up early cash leads over fledgling opponents.
Agriculture Commissioner Adam Putnam brought in the most money during the past three months, according to reports available late Wednesday, hauling in $591,000. His only opponent so far, Democrat Thaddeus Hamilton, has raised $760. Chief Financial Officer Jeff Atwater, who has no announced opponent, brought in $105,000 last quarter and has raised $195,000 overall. Attorney General Pam Bondi did not have to file a report since she did not open her re-election account until last week.
This brief has been archived. The entire brief is available exclusively to LobbyTools subscribers.
Already a subscriber? Login, or call 850-915-0100 ext. 1 for customer support.