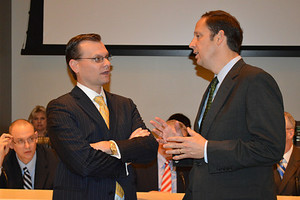 The House and Senate appropriations chairmen, Rep. Seth McKeel (L) and Sen. Joe are their chambers chief negotiators in budget talks. File photo by Bill Cotterell.
Environmentalists said Monday they were disappointed at the budget agreement reached late Sunday on agriculture and environmental spending issues.
The House on Sunday accepted a Senate offer that included $167.8 million for Lake Okeechobee and Everglades restoration projects, $25 million for springs protection and $17.5 million in new revenue for conservation lands.
This brief has been archived. The entire brief is available exclusively to LobbyTools subscribers.
Already a subscriber? Login, or call 850-915-0100 ext. 1 for customer support.