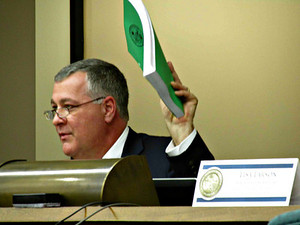 Rep. Ben Albritton, chair of the House Appropriations AG & Natural Resources Subcommittee, holds up a packet of applications for water projects funding during an April 1 meeting. Photo by Bruce Ritchie.
Florida TaxWatch spared local water projects totaling $59.4 million from its list of "turkeys" in Legislature's 2013-14 state budget.
The group each year lists projects that it says were placed in the budget without proper public review and debate. The group says it doesn't condemn the projects but it does request that the governor consider them for vetoes.
This brief has been archived. The entire brief is available exclusively to LobbyTools subscribers.
Already a subscriber? Login, or call 850-915-0100 ext. 1 for customer support.